LUKLA AIRPORT- NEPAL: World's Scariest Airport/ Adventure of Mount Everest begins at tiny Nepal Strip
At Everest, it's not just the mountains that takes some guts, writes Plip Byrnes
There is one catch to arriving at the Everest Base Camp Trek start-point in Nepal and that is flying into infamous, perilous situated Lukla Airport.
That is the coolest airport ever. It going to be really, really exciting. Have fun!
Lukla Airport:
Carved out of the side of mountains, the airport was built by Sir Edmund Hillary in 1965. At an altitude of 2,843 meters (9,325 feet) it is one of the most extreme and dangerous airport in the world.In January 2008 the airport was renamed
Tenzing- Hillary Airportin
in
honour of
Sir Edmund Hillary
and
Sherpa Tenzing
Norgay, the first people to reach the summit of Mount Everest and also to make their efforts in the construction of this airport. Landing at Lukla airport in the outskirts of the
Nepalese
capital of
Kathmandu
is tricky. Just 1,500ft long and only 60ft wide, the runway ends in a blank mountain wall and has an uphill gradient of 12 per cent, in the town of Lukla, is a small airport in the town of Lukla in Khumbu,
Solukhumbu district
,
Sagarmatha zone
eastern Nepal.
Why Lukla Airport is World's Most Dangerous Airport?
Tenzing Hillary Airport doesn't have a Control Tower, Radar or Navigation.
Pilots are forced to rely on the view from their Cockpit to Land and Take-Off.
The 460 metre long runway-a tenth of standard length-is also on a slope.
If a pilot misjudges landing or take-off, they face a 9,200 ft. fall off a cliff edge.
The landing strip is built on the steep incline of a hillside. Its length is 450 m and width 20 m. and the runway incline is a staggering 12%. The apron has 4 stands and there is one heli-pad located 150 m. below the
air traffic control tower
. No landing aids are available and
Air Traffic Service
is limited to AFIS (Aerodrome Flight Information Service) only.
Landing in Lukla leaves no room for error. Pilots throw their propellers into hard reverse before they touch down and gun the engines as they race down the hill for takeoff. Considering the extreme landscape it was the best candidate for the engineers to construct the facility. The strip is at an elevation of 2800 m with a an abrupt drop off down to a river valley below. The approach is through a maze of spectacular mountain peaks and the air is often cluttered with clouds.
There is a big hill right behind the landing strip. You also need to clear a high ridge, bank left, descend steeply, straighten the airplane and land. Navigation is by sight only and you need to negotiate several layers of clouds which can hang on the high hill or rise from the deep valley. This is why flights will often be cancelled and you could be stuck in Lukla waiting for a plane for days on end.
If this is worrying you one comforting thought is that only the most experienced pilots in Nepal are flying to Lukla.
The airport is quite popular as Lukla is the place where most people start their trek to the Khumbu and
Everest Base Camp
and now what once was a dirt strip is one of Nepal's busiest domestic airport. Thousands of mountaineers and trekkers who visit the Everest Region have to fly to the airport if they want to avoid a day long bus trip from Kathmandu. In the peak season the airlines operate over 50 flights a day far beyond the acceptable capacity for such a facility.
The airport's paved
Asphalt Runway
(
any of several black semisolid substances composed of bitumen and inert mineral matter. They occur naturally in parts of America and as a residue from petroleum distillation: used as a waterproofing material and in paints, dielectrics, and fungicides
)
is only accessible to helicopters and small, fixed-wing, short-take off and landing aircraft such as the
De Havilland Canada DHC-6 Twin Otter
, Derriere Do 228, and Pilates PC-6 Turbo Porter. The runway is one-way for both take off and landing. Aircraft have to land from the southwest and take-off toward the northeast because other end of one side of the runway is mountain. When winds are blowing in an unfavorable direction, all take off and landings have to stop.The runway is 460 by 20 m. ( 1,509 ft) with 12% gradient. The elevation of the airport is 2,800 m. (9,200 ft.)
Aircraft can only use
Run-way 06 for Landing
and
Run-way 24 for Take-Off.
There is no prospect of a successful go-around on short final due.
Trip Notes:
Flying into Lukla:
Airlines flying into Lukla change annually, but Yeti Air, Tara Air ( a subsidiary of Yeti), Agni Air and Nepal Airlines are staples.
If travelling independently, have a local operators such as
Himalayan Encounters
can make reservations. They can arrange an experienced porter or guide to meet you at Lukla. Flights start at about $140 one way.
In trekking season, flights can be booked solid. Try for earliest 6 am flights to avoid weather deterioration mid-morning (and cancelled flights). Be aware Lukla can close for days, but if pilots call it unsafe to fly, its best to go with the flow.
Top Tip:
Sit on the left-hand side of the plane towards Lukla for scenic Everest massive views, right side on the return.
The Control Towers: Manned by two or three Air Traffic Controllers who are in
constant Radio Contact with Kathmandu Airport and the Planes. They will decide if conditions are good enough for Planes to leave Kathmandu and land in Lukla
Carved out of the side of a mountains-the Airport was built by Sir Edmund Hillary in 1965 to help the local yak herders known as Sherpas spur development in the improvised area. In picture Flight get ready to take off
A Flight Approaches Lukla Airport for a Landing. If the Pilot misses the runway, the Plane will slam into a mountain
Challenging: The 450 meters long runway less than a tenth of the length of those International Airport is also situated on a steep incline.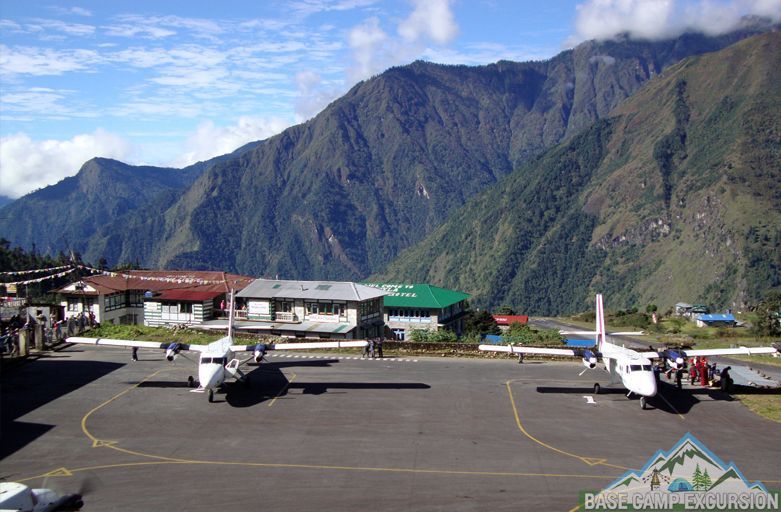 A Group of Tourist wait to board a Plane departing from Lukla Airport. The Airport is the main rout for those trying to reach the Everest Region.
A Plane begins to lift off the ground just a few meters before the end of the runway and the 9,200 ft drop.
Landing in Lukla, Neal leaves no room for error
A program Titled Most Extreme Airports Broadcast on The History Channel in 2010, Rated the Airports as the Most Dangerous Airport in The World
2.
Nepal Airlines
3
Lukla Weather Forcast for Sagarmatha Nepal
4.
Information on Lukla Airport, Lukla, Nepal
5
.Lukla, Nepal Forcast