Adventure Holidays:

Vacation or Trip to a natural environment or remote location with the specific purpose of active participation and exhilaration of a new experience.

Benefit of Adventure: True adventure look for the opportunity to challenge themselves and learn from their experiences. The emotional and physical benefits of adventure sports are impressive such as improved problem solving. Increased health and positive thinking.
Exploration or travel with perceived (and possibly actual) risk, and potentially requiring specialized skills and physical exertion.This may include activities such as Mountaineering, Trekking, Bungee Jumping, Mountain Biking, Rafting, Zip-Lining, Paragliding, and Rock Climbing. Adventure holiday is a phrase that means different things to different people. An active holiday may include grade-5 white water rafting and sky diving out of a plane, or it may be as gentle as planning an interesting walking holiday for your family. Whatever adventure means to you. We cover a wide range of topics that will help you a lot especially in getting started with the Adventure sports and holidays especially in Nepal.
Types of adventures: Adventure sports refer to activities like Mountain Biking, Rock Climbing, Mountaineering, Kayaking, Scuba Diving, Base Jumping, Canoeing, Multi-Activity, Rafting, Trekking, or Wild Life Safari the list goes on and on.
Mountain Biking:
In its most basic forms, Mountain Biking can be defined as a form of cycling on off road or unpaved surfaces such as mountain trails and dirt roads and the biker uses a cycle with a sturdy frame and fat tires.
Mountain Bikes- Types:
basically there are five different types of Mountain Bikes:
Cross Country
,
Trail
,
Downhill
,
Free ride
, and
Dirt Jump
.
Read more.......
Canoeing:
A long narrow watercraft with sharp ends. It is usually propelled by means of paddles, although sails and, more recently, outboard motors are also used. The majority of canoes made today, however, are manufactured of tough but light aluminum alloy. This type of canoe contains an air pocket in either end to ensure floating. Modern canoes are also made of fiberglass or plastic. They usually accommodate two paddlers. Kneeling, propelling the canoe with a single paddles. Types: Wood Canoes, Wood/Canvas Canoes, Aluminum Canoes, Fiber glass Canoes, Kevlar Canoes, Royal-ex Canoes.
Read more
......
Trekking:
Trekking is combination of hiking and walking activity in which people take multi-day trips in rural, underdevelopment area. In another words, Trekking is making a journey/trip on foot, especially to hike through mountainous areas often for multiple days and along lovely mountains villages and enjoying nature and/ or close contact with people in remote mountains villages. Trekking is also done in risky mountain areas so it will help to gain more adventurous build up capacity to the trekkers. Trekker will get knowledge that is more adventurous with the real life scenario in mountain areas or in remote area. In case of Nepal, Nepal has many places where people can easily do trek for 3 days up to 3 months.
Types of Trek:
A. Tea House
Trek. B. Camping Trek.
Mountaineering:
Mountaineering history can be traced back to the ancient days of the human civilization. Mountaineering has emerged as one of the popular outdoor activity, which is regarded as both recreational and adventure sports. Mountaineering is a sport that climbers climbing and hiking up mountains. Mountaineering refers to various activities taken together. The activities categorized under mountaineering include hiking or trekking and climbing. Mountaineering can have various disciplines depending up on the technique used for the purpose. The most common technique used during mountaineering include rock-craft, snow-craft and skiing. The techniques used for the sport differs for various destination. Mountaineering is considered to be one of the extreme outdoor activities, which demand high physical fitness and technicality. Mountain climbing has emerged as one of the popular adventure sports practice by adventure lovers all around the earth. Mountain climbing can also be exercised as a recreational activity. Climbing is regarded as the process of ascending a vertical object. Generally climbers ascend using only their hand and feet. Mountain climbing can be of different kinds like
rock climbing, ice climbing
and
bouldering.
Generally the method of mountain climbing is classified under two main division, named
free climbing
and
aided climbing
. The climbing method, in which climbers use only their hands and feet, is known as free climbing. When climbers take help of various equipment's for climbing, then the method is called aided climbing.
Bungee Jumping:
Bungee Jumping is a recreational activity that involves jumping from a high surface while attached to an elastic cord.. The tall structure or high structure is usually a fixed object, such as building, bridge or crane. When the person jumps, the cord stretches and the jumper flies upwards again as the cord recoils, and continues to oscillate up and down until all the kinetic energy is dissipate.
Rafting:
Rafting is a recreational outdoor adventure activity specially organizes in river which offers adventure thrill, rapids fun and excitement utilizing a raft. White water rafting is going popular water adventure between thrill seeker adventure traveler.
White Water Rafting
uses specialized rubber rafts that are very sturdy and flexible. All the rafters have paddles, which are used to guide and propel the raft through the water. White water rafting is great fun and a fantastic way to get in touch with the outdoors. White water rafting requires that you navigate a river, usually comprising of rapids and steep bends, atop a rubber boat.
White Water Rafting
are classified into six categories. Most white water rafting trips occur on
class 3 and 4 rapids,
where the turbulence gives you an exciting ride, but with limited risks. Nepal is the second richest country in terms of water resources there are so many water resources for white water rafting.
Kayaking:
Kayaking is a recreational sport in which participants use specialized boats called kayaks in a wide variety of water ways. Kayak are boats which take a number of forms, depending on the function for which they are designed. People can take Kayaking trips on the ocean, up rivers, in surf zones and along white water courses. Participants can often have minimal skill. A Kayak is a boat with a covered deck and a small hole for someone to sit in. The legs of the sitter are concealed, warm and dry, inside the boat. They are originally designed for use in the arctic. Many traditional Kayaks were custom made for the individual user. Kayaks are propelled using double bladed oars, and they can be quite and maneuverable.
Wild Life Safari:
The word safari originated from the word
"SAFAR"
which is an Arabic verb that roughly translates to mean "to make journey." In modern word, A recreational journey or expedition, for hunting, exploration, or investigation, especially in eastern Africa. The hunters, guides, vehicles equipments, etc forming such an expedition.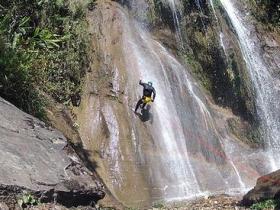 Multi-Activities:
Multi- Activity Holidays is one jam packed with activity, adventure and exhilaration, with different experiences to challenge mind and body each day, depending on the location. You can enjoy thrilling activities as diverse as Canoeing, Kayaking, White Water Rafting, Rock Climbing, Hydro Speed Diving, Snore Killing, Surfing, Wind Surfing, Mountain Biking, Horse Riding, Hiking and much more. Many Multi-Activity Holidays are centre-based, where the group stays at the same accommodation through out the trip and uses it at a base from which go out and experience all the activities the region has to offer. Other are tour which travel through a destination, enjoying the best of the activities along the way.
Rock Climbing:
If you aren't afraid of heights, rock climbing could be the adventure sport for you. Rock climbing styles include free, trad, aid, solo, ice and mountain. Before you set out to climb, you'll need appropriate equipment, including carabiners that connect your rope and your harness: the harness is needed to hold you up while you are climbing. Also critical are belay devices, used by climbers to feed the rope to one another. Climbing shoes made of vulcanized rubbers, gloves and a helmet are also essential safety equipment.
Videos