NEPAL
officially the Federal Democratic Republic of Nepal, is in Southern Asia, between China and India. It covers total area of 143,351 sq km and its boundary is 2, 926 km long in total, bordered by China 1,236 km and India 1,690 km. It is a landlocked country.
NEPAL
is known for its beauty and it has its own cultures. Nepal is a land of superlatives and jaw dropping scenery. This Himalayan Kingdom straddles the world's highest mountain range and offers incredible outdoor recreation and colorful culture in equally large doses. It has more than 70 ethnic groups and more than 60 different languages are spoken in different parts of Nepal. Nepali is the National Language of Nepal. People practice several religion. Till now Hinduism and Buddhism have the largest population. Kathmandu is the capital, and Nepal has 30 million people.
Nepal Profile:
It is nonetheless one of the world's poorest country, and is struggling to overcome the legacy of a 10-year Maoist insurrection. Until Nepal became a republic in May 2008, it had been ruled by monarchs or a ruling family for most of its modern history in relative isolation. A brief experiment with multi-party politics in 1959 ended with king Mahendra suspending parliament and taking sole charge in 1962.

Democratic politics was introduced in 1991 after popular protest, but was marked by frequent changes of government. The last king of Nepal, Gyanendra twice assumed executive power in 2002 and 2005.

Maoist rebels waged a decade-long campaign against the monarchy, leaving more than 12,000 people dead and 100,000 people displaced according to UN figures.

When King Gyanendra's direct rule ended under public pressure in April 2006, the rebels entered talk with the parliamentary government on how to ended the civil war.
A peace deal was agreed in November, although the Maoist continued to press for ablution of the monarchy. Parliament agreed to the condition in December 2007, and the Maoist emerged as the largest parliamentary party after elections in April 2008.

The monarchy was abolished a month later, and a Maoist-dominated government took offices in August. But political instability has plagued Nepal since the end of the civil war. Politicians have yet to agree on a new constitution- a key part of the peace deal with the Maoist-and are at odds over proposals to divide Nepal into states, along ethnic lines. Nepal has been at odds with neighboring Bhutan over the repatriation of thousands of Bhutanese refugees of Nepalese descent who fled violence in Bhutan in the early 1990s.
Nepal has a flourishing tourist industry, but faces problems of deforestation and encroachment on animal habitats. Most of the population depend on a agriculture, and the UN estimates that about 40% of Nepalis live in poverty. Foreign aid is vital to the country, and Nepal is also heavily dependent on trade with neighboring India. Nepal is known for fine architecture, such as in Bhaktapur, a UNESCO World Heritage Site.
Source-BBC News
Nepal's People and Ethnic Group
Nepal has a population of more than 26 millions people, made up of over 40 different traces and tribes. The country offers such diversity that the visitors may experience any lifestyle from the stone age, in far west and high hills, to the jet age of Kathmandu.
The culture of Nepal is a assemblage of music, agriculture, religion and literature. This mountain kingdom is multi-ethic and multi-lingual. The land is rich with unique cultural groups like Tharu, Yadav, Ahir, Newars and others. The two major groups in Nepalese society are Tibeto-Burmans, or Mongoloids from the north, and Indo- Aryan from the South. Many customs are inherited from both sides and have been developed by the influences of the land, climate and available resources.
The largest groups can be divided on the basis of geographical location by altitude.
Alpine Based Cultural Groups
High Himalayas
Sherpas: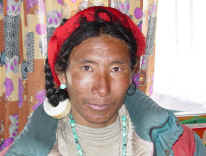 Sherpas is literal terms, means people of the east in the Tibetan language. The famous Sherpa people live in the Solu-Khumbu (Everest) region.
Originally from Tibet about 500 years ago they have a close affinity with the Tibetan language, culture and religion. Sherpas major occupation include agriculture, animal husbandry, trade and have become famous for trekking and mountaineering. They are known world wide for their skill and hardness. They follow Buddhism as their major religion.
Dolpa People:
Dolpo is a high-altitude culturally Tibetan region in the upper part of the Dolpa District of western Nepal, bordered in the north by the Tibet Autonomous Region of China.The settlement of these people is considered the highest of any living ethnic group in the world. These people live beyond the mountains, west of the Kali Gandaki River Valley. These people practice Buddhist customs. Dolpa district has high potential for adventure tourism. The land of wilderness is famous for unique landscape, geography, and Tibetan influence culture and lifestyle. The upper part of Dolpa district is famous for trekking
Larke and Siar People
Larke lies in the northern border district of Gorkha, between Himal Chuli and Manaslu to the west, and the Ganesh Himal to the east. This is a fertile area that gets the benefits of the monsoon rains, so the fields are lush and green. Siar lies in the northern part of Dhading in the Bagmati Zone. The area is very reminiscence of the Manang district and both sectors are habited by Tibetan Himalayan-type people whose economy is based on agriculture and trading.These people mainly speak the Tibetan and Gurung languages and have ethnic affinity with Gurung.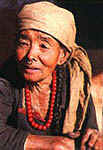 Manang Bas
Manangba (Also Known As: Manang Bas, Nyishangba, Nyi-Shang, Manang, Manangi, Manangpa, Manangbolt, Neshyang, Nesyangba, Nyeshang).The people of Manang are called Manang Bas. Their major occupation include trade and business. They have their own language and scripts and taintain their own local religious practice with 12 villages called Bara Gaule- Barangaurs. The famous pilgrimage spot on the Annupurna Circuit, Mukninath lies in their area. Although Buddhism is part religion they follow Mon-Po which pre-dates the reign of Buddha.
Lo Pas of Mustang
The settler of Lo are called Lopas. They carry on trade between Nepal and Tibet in the upper and lower Mustang areas. Buddhism is their major religion. They have their own local language and festivals outside typical Buddhist as well.
Olangchang People
These people are the inhabitants of Olangchung Gola, the main trading route along Eastern Nepal. Besdides Buddhism they have their own customs and practice. Thodam, Topke Gola and Lhomis are other ethnic groups within Nepal's Alpine region.
Temperate Zone Based Cultural Groups
Middle Hills and Valleys
Brahmins and Chetris
Two large groups distributed in scattered patterns all over the country, which are considered the two highest cstes in Nepal. They have sharp Indo-Aryan features and an olive complexion. Brhamins are believed to have migrate from India while Chetris are from the present day Khasa people from Khasi. These people follow Hinduism as their main religion are socially they have many sects. They are divided into two major streams, Purba and Umai. The Kumains people are of the origin of Kumao, Northern India, Uttar Pradesh. Their social practices depend upon Hindu religious epics. They speak Nepali the national language of Nepal are use a script with basis in Sanskrit.
Kirati
The Kirat or Kirati people are indigenous ethnic groups of the Himalayas (mid-hills) extending eastward from Nepal into India, Burma and beyond.Kirati mainly consists of Rai and Limbu people. Literally Rai or Limbu means headman. They are descendants of Kirati's who first formed the kingdom in the Kathmandu Valley. They now live in far eastern Nepal Kirati people are well known for their courage and bravery and are often recruited into armies abroad like the more famous Gurkha. Kirat Limbu people believe in a supreme god called Tagera Ningwaphuma, who is also known as the supreme knowledge. The Kirat ancestor Yuma Sammang and god of war Theba Sammang are the second most important deities. Kirats in Nepal were forced into taking Hindu names and accept Hinduism during the Prithvi Narayan Shah's Khasnization Policy and the later Khas rulers of Nepal maintained this policy. Many of the Kirat initially stayed away from Hinduism but were encouraged to convert by the ruling elites of later Nepal.
Newars
Newaris are a traditional merchant and trading caste that are prominent in old urban areas of Nepal; like Kathmandu. Before the "unification" of Nepal, Newari kingdoms existed throughout the hills of Nepal along major trade routes and Newari kings were renown for their pagoda style temples and crafts. Many of the old palaces and temples in Kathmandu are the work of Newaris and their rich traditions of woodcarvings and stonework continue to this day. Newaris are less than 6% of the population and speak Newari, a Tibeto-Burman language that is unique and difficult to learn.
Newars are mainly settled in Kathmandu Valley and in major trading centers throughout the kingdom. They have Mangolian features and their own language and script, Newari, believed to have its origin from Tibetan-Burmans. Hinduism and Buddhism are their main religion. They have complex social systems and practices and are comprised of many castes. Trade and farming are their main occupation. Newari cuisine is also known for being some of the best food in Nepal – just beware of it's spiciness
Tamangs
The Tamanga are a very ancient tribe of Nepal and are the original people of Yambu (Kathmandu Valley)Today, they inhabit practically the entire mountainous regions of Nepal, and also adjoining regions of India, Myanmar and Bhutan.
In Nepal, Tamangs are predominately found in the districts of Sindhupalchowk, Dolakha, Rasuwa, Kathmandu, Bhaktapur, Lalitpur, Dhading, Makwanpur, Nuwakot, Ramechhap, Chitwan and Kavreplanchowk. Living mainly in the north and east of the country, they constitute 6.6% of
Nepal
's population, which places their population at 1,128,000, slightly higher than the
Newars
.
InTibetan language Tamang means horse traders. It is believed that they originally came from Tibet. The majority of Tamangs live in the hills surrounding Kathmandu Valley. Thei social practices and customs are based on Buddhism and they have their own language, Tamang. They work mainly as farmers, labors and as porters.
Magars
The Magars are one of the oldest ethnic groups of Nepal, India, Bhutan and Burma also whose homelands extend from the western and southern edges of the Dhaulagiri section of the Himalayas range south to the Mahabharat foothills eastward into the Kali Gandakibasin in Nepal and Darjeeling, Sikkim, Bhutan and Burma also. They are third largest group of people after Chhetris and Brahmans by 7.125% of Nepal's population, according to the 2011 census, they are the largest indigenous group in NepalTheir origin is basically found in hill regions of western Nepal. Their religion is Buddhism and their language. Farming, military services weaving, hunting and fishing are their major occupation.
Gurungs
They are famous for their innocence, simple mindedness, are bravery while serving in military services. They are mostly settled along the higher slopes of the Annapurna areas and the Kali Gandaki River above the Bag-lung district. They are farmer of rice and grains and also sheep. They are ethically related to Magars.. The Gurung love music and they have their own language. Gurungs are either Buddhist or Hindus. The Lama is the purohit (priest) of the Buddhist Gurungs. Gurungni are not only experts in their household chores, but also in playing musical instruments like binayo machunga, madal, & the flute.
Thakalis
The origin of Thakali is Thak Khola, a high valley in central Nepal along the Muktinath region. They have Mongolian features, a fair complexion and narrow eyes. Thakalis are divided into four major groups. Gauchan, Tulachan, Sherchan and Bhattachan. Their religion is a mixture of Buddhism, Hinduism and Jhankrism. They are known for their hospitality, good salesmanship and cleanliness.
The Thakali live along the Kali Gandaki river. Their territory comprises the southern Panchgoan region and the northern Baragoan area. Panchgoan has the meaning 'five villages' and the original villages are:Thini, Syang, Marpha, Chairo and Cimang. Baragoan is the area as far north as Kagbeni. Thak in Tibetan means 'distant country' because historically it was the most remote region under Tibetan influence.
The Thakalis are an entrepreneurial people who thrived in the region during the heyday of the trans-Himalayan trade. They traded Tibetan salt and wool for Nepalese rice. They built the villages and lodges along the trail. Today their business activities are mostly conducted in Pokhara and Kathmandu.
Subtropical Based Cultural Groups
Etnic Groups of Terai Region and Souther Nepal Border
Brahmans and Rajputs
These people are similar to Brahmans and Chetris of the middle hills. Their major difference being a high degree of influence from the neighbouring North Indian people.
Tharus
This is largest and oldest ethnic group of the terai belt found living in close proximity to densely forested region. They are dark in complexion and have smart, trim bodies. They follow the Hindu religion and their practices are depend on many typical Aryan practices. Farming and business are their main occupation. They speak their own languages which are of Sanskrit origin.
Rajbansis
This is a dominant ethnic group of far eastern terai areas of Jhapa and Morang. Although they follow both Hindu and Muslims religions, they have their own local practices. Farming is their major occupation.
Satars
They are similar to Santhals of Bihar, India. They are very much like Tharus and their social life is organised and discipline. They believe in Hinduism. Dimals, Bodar, Dhangar are agriculturist Hindu. Bodos are setteled in an area known as the meechi zone and are more known as meechan people. Dhangars, who live in one part of the eastern terai have their origin in Madhya Pradesh, India. Dimals are the terai counterparts of the Limbus from the eastern terai, mainly in Jhapa.
Musalmans
They are Muslims migrated Northern India. They speak Urdu and their social practices correspond with the Muslim religion.
Nepal's Food:
Nepal is similar to many countries within South Asia, as it successfully combines a range of characteristics from its neighboring with its own gastronomic history, resulting in foods that are rich with flavour and culture. Recipes from Nepalese cuisine can be relatively simple and the flavors subtle. countries The Food of Nepal is as diverse as the country itself. The food in Nepal differs from the one culture to the another.
Read more