NEPAL Land of the Himalayas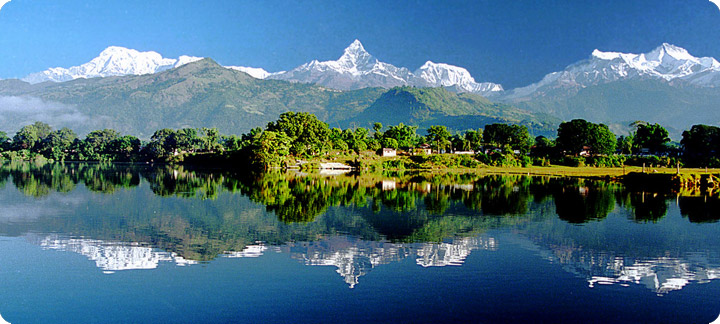 Nepal is a country of great beauty and visual varieties with the attitude of 70m above the sea level in the south and about 8848m height of Mt. Everest in the north. Nepal has, therefore, diversify in altitude that has reflected unique culture.


Nepal is famous in the world for its natural beauty, shining mountains, green valley and beautiful green places with terraced farmlands and hilly foot trails and the forests full of rare wild lives including the lordly tiger, one-horned rhinoceros. The religious homogeneity is next unique feature for Nepal. The exquisite art and architecture of Nepal reflect the artistic ingenuity and the religious tradition of people as well. The beautiful lakes and springs is considered as the main remarkable point of the country and plants like orchids and rhododendrons is as scenic you can imagine.
About Nepal: Nepal is the youngest republic in the world. The people movement in June 2006 overthrew centuries old shah Dynasty and declared Nepal as a Federal Democratic Republic of Nepal on May 28, 2008
Location: Nepal is a landlocked country nestled in the laps mighty Himalayan Range, situated in Southern Asia, the Tibetan Autonomous, Region of People's Republic of China boarders Nepal in the north while Nepal shares its eastern, western and southern borders with India.
Language: Nepali is the national language of Nepal. However, people in urban areas speak and understand English quite well. People in the Tourism Industry also speak and understand selected International Languages like Chinese, Indian, French, Japanese, German, Spanish and others. Apart from these, there are hundreds of local dialects spoken by people from various ethnic groups.
Climate: Nestled in the laps of mighty Himalayan Range, Nepal has moderate climatic condition throughout the year. Nepal has four major season, namely:



Nepal can be visited all the year around.

People and Religion: Nepal is a secular state and it respect the practice and existence of different religion within its Territory. Nepalese people are mainly divided into two distinct groups:

1. The Indo- Aryans and
2. The Mongoloids (the kirants). The Hindu Temples and Buddhist shrines are scattered all over the country. Nepal is the birthplace of Lord Buddha, the Herald of Peace. Hindus, Buddhist, Muslims, Christians are people of other religion live together here in perfect harmony.

Currency and foreign exchange: Nepal bank notes comes in rupees 1,2, 5, 10, 25, 50, 100, 500, 1000. Denominations. coins come in rupees 1, 2, 5 and 10 denomination foreign currencies must be exchange only through banks or authorized money exchange, The receipt of such traction are to be obtained and retained. Visitors can exchange foreign currency at the foreign exchange counter at the airport upon arrival too. Visitors other than the Indian national have to make the payment in foreign currency (non-Indian currency) in hotel, trekking agencies or travel agencies and for air tickets.

NEPAL The Democratic Republic of Nepal is a landlocked country located in Southern Asia, bordered by Tibet in the north and India in the South. The landscape is made up of the Terai or flat river plain of the Ganges in South, the central hill region and the rugged Himalayas in north. Nepal's population is estimated to be 27,676,547 (July 2005). The Nepalese people mainly follow the Hindu religion (80.6%) followed by Buddhism (10.7%) and then Muslim (4.2%) the remaining population follows minority religion. Nepal is best known for the world's greatest mountain range-the Himalaya's, which consumes most of the land that falls within its border. Nepal boasts eight of world's 10-highest peaks, including Mount Everest- the world's tallest peak.

Sight Seeing: It is one of the major attractions of Nepal. In Nepal, one can visit the places of historical, cultural religious importance and enjoy the scenic beauty at the same time. Famous destinations for sight seeing are Kathmandu valley, Pokhra (with scenic beauty), Lumbini (birthplace of lord Buddha), Nagarkot and Dhulikhal (Hill Resorts), Gorkha, Janakpuri etc!



Winter (December-February)
Spring (March-May)
Summer (June-August)
Autumn (September-November)
Trekking:
Nepal's mountainous and hilly regions offer some of the most spectacular trekking sites in the world. The immense contrasts in altitude and climate found in the different parts of the country support and equally spectacular mix of life styles, vegetation types and wild life. The most popular trekking destination in Nepal is the Annapurna region. Other destinations include Everest region, Langtang region and other remote areas.
Mountaineering:
Mountaineering in Nepal is another prime tourism activity proving Nepal the cradle for mountaineers for ages. The great
Himalayan range
in Nepal has eight out of fourteen of the world's 8000 meter peak with total number of 1310 snow peaks over 6000 meter and offers the best choices for Himalayan expedition and mountaineering in Nepal. Whether the interest is simply climbing a peak or an expedition on 7000 or 8000 meter peak, climbing Himalayas in Nepal has become a dream for most of the adventure enthusiasts and mountaineers in the world. Expedition on Pomori, Amadablam,
Baruntse
are considered the popular among 6000 and 7000 meter peaks whereas Dhulagiri, Makalu, Manaslu, Lhotse, Everest are the 8000 meter peak for the challenging climbing in Nepal. Nepal is well known for its Himalayan mountains. Among the ten highest peaks in the world, eight are Nepal, including the highest peak Mount Everest. Nepal is famous destination for mountaineers and every year more than 100 expeditions trudge up the Himalayas.
There are four seasons for mountaineering in Nepal.
@ Autumn ( September- November) and
@ Winter ( November- December)
Jungle Safari in Himalayas:
A trip to Nepal is incomplete if you have not been on a jungle safari. While the mountains of the north have some of the highest and most magnificent peaks in the world, the tropical jungles of the Terai preserve some of the best wildlife habitat in the subcontinent. Some of these rich wildlife habitats are now protected, and can be tours on elephant. Back, 4WD Vehicles, and Dugout Canoes or on Foot accompanied a licensed guide. Nepal has 16 national parks, wildlife reserves and conservation areas, occupying 16% of its total geographical area. Jungle safari on elephant back or jeep rides are offered at the
Parsa Wildlife Reserve
,
Royal Bardia National Park
, Royal Chitwan Park and Royal Sukhlaphanta Wildlif Reserve all located in the Terai.
Among them, there are two famous
National Park
. Royal Chitwan National Park and Bardia National Park where you can explore the wild life getting yourself deep into the heart of the forest, while the others serve as the natural habitat to thousands of animals including snow-leopard, Gharials, Crocodiles, Ram, Bob cats, endangered red panda, Elks, Anteplores, Kasturi, Monkeys, hundred of birds (infact Arun Valley has the largest population of birds (650+) and butterflies (800+) in the entire world). Himalayas has such varied topography that it showcases different types of flora and fauna. It has some unique wild life activities. Different regions of the Himalayas have some unique features. So to explore the wilds of the Himalayas jungle safari in the best option. It will give you a chance to come close to nature. Jungle safari can be of different types like riding on an elephant's back or traveling on a jeep.
Jungle safari is exploring the forest through a jeep instead of trekking, hiking and biking. It is a very different experience. The jungle safari tours involve not just exploring the jungles of any particular region but it also involves various wildlife sanctuaries and national parks and even protective reserve.
You can also opt for wildlife camping and nature walk along with your jungle safari. The safari tour also includes lodging, which are provided by various forest departments within the sanctuary area and national parks. It gives you a chance to walk around the jungle and just relax and feel the wildness. The best time to go for a jungle safari is between April to June and September to November.
Major Places for Jungle Safaris are:
The Great Himalayan National Park
Jim Corbett National Park
Royal Chitwan National Park
Namdapha National Park
Royal Bardia National Park
River Rafting in Nepal:
In fact, Nepal is known to contain the world's best rivers for white-water experiences. After mountain expedition river rafting is the most exciting and adventurous sport in Nepal. It is a journey on the torrential river on an inflatable rubber boat.
Few countries in the world offer the thrill of white water in such an impressive setting or rushing rivers flowing through tropical jungles with snow-capped peaks in the distance. The combination of spectacular rivers, mountain scenery and a rich cultural heritage makes Nepal an obvious river runner's destination. No other country has such a choice of trips on wild rivers with warm water, a subtropical climate and big white-sand beaches that are ideal for camping. A full day trip is about 5 hrs.
The River of Rafting
Trisuli River Trip Duration: 1 day(s) Grading: Moderate (Rafting)
Sun Koshi Trip Duration: 10 day(s) Grading: Moderate to strenuous (Rafting)
Karnali Trip Duration: 10 day(s) Grading: Moderate to strenuous (Rafting)
Seti River Trip Duration: 3 day(s) Grading: Moderate to strenuous (Rafting)
Manshyandi River Trip Duration: 5 day(s) Grading: Moderate to strenuous (Rafting)
Kali Gandalli Trip Duration: 5 day(s) Grading: Moderate to strenuous (Rafting)
Bhote Koshi Trip Duration: 2 day(s) Grading: Moderate to strenuous (Rafting)
Paragliding in Pokhra:

Paraglidin is a relatively new adventure sport in Nepal. Paragliding in this Himalayan country can be atruly wonderful and fulfilling experience for the adventure seekers. You can experience unparalled scenic grandeur as your share airspace with Himalayan griffin vultures, eagles, kites, while floating over villages, monasteries, temples, lakes, and jungles, with a fantastic views of the majestic Himalayan.
The main area for flying in Nepal is the Anuparna region, more specifically the Pokhra valley. This lakeside town is Nepal's second "city" nestled at the foot of the Anapurna Himal, the views commanded from here, of 3 of the world's 8000m peaks, are unsurpassed. At an altitude of 8000m ASL the subtropical climate means that, year around. The micro climate of the valley makes, it an ideal area for flying, with more constant conditions than the Kathmandu valley 150km east.
There are abundance of other sites around the valley but all need to be walked up. With names such as Dikie Danda, Devi falls, Poomdi and Matepani, all can be connected by air from Sarangkot.

Best Season: Gliding is a weather dependent sport and the flying season in Nepal commences from November through February. Whereas, best month is November and December.
To take off point for these flights is Sarangkot (1592m), which offers prime views of Phawa Tal and the mountains of sunrise and sunset, the landing is by the lake. No previous experience is required as qualified pilot provide a short briefing before launching.
Paragliding Sites in Nepal
1. Mount Everest- Altitude 7458m.
2. Killumn- small take off... little bit technical, not for beginners!!! Altitude 1473m.
3. Sarangkot- side of the road,from Pokhra to Sarangkot follow the Paragliders and Birds. Altitude-1438m.
4. Sirkot- easy Altitude 1551m.
5. Pokalde- Altitude 4767m.
6. Sati Dada- Altitude 2027m.
7. Galem- Altitude 976m.
8. Besisahar- Altitude 1490m.
9. Meem Gurung- Altitude 1713m.
10. Green Wall East- Altitude 1647m.
11. Dicki Danda- Altitude 16431m.
12. Krachlspitze- Altitude 3323m.
13. Galem- Altitude 1739m.
14. Korchong- Altitude 2939m.
15. Argakhachi- Altitude 1750m.
Mountain Biking In Nepal:
The best way to explore the Kathmandu valley and around is on a mountain bike, Nepal's diverse terrain is a mountain biker's dream adventure come true.. Mountain biking offers an environmentally sound way of exploring this magnificent country, it's landscape and living heritage. If you are here in Nepal for short time and want to have a taste of short ride around Kathmandu valley, try Nepal Mountain Biking day tour, go mostly down hill seeing the Himalayan vista.
Sand witched between the two most popular countries of the world, China and India, Nepal has one of the most mountainous areas of the world..There are plenty of drifts roads and trials in Nepal to meet every mountain biker's wildest fantasy..
Mountain is a fascinating way to travel the by ways of the valley, visiting little known villages, several groves and out of the way temples and monuments. Tours may go out for just the day a may spend two or three days, staging at the scenic view spots of Dhulikhel, Nagarkot or Daman. Longer tours go from Kathmandu all the way to the southern Terai region, Pokhra, Ganesh Himal region or Chitwan National Park. Groups will experienced bikes go to Lanatang valley or Thorong-La or even fly up to Lhasa, Tibet and mountain bike all the way back to Kathmandu.
Itinerary: Here are few options for Kathmandu valley day biking tour starting from USD 87 per person per day, if more then 3 pax it will be USD 67 per person per day.